white stuff
Did you know it snowed? Oh, not here. But in the northeast corner of Massachusetts, where we went for Thanksgiving. We woke up Thursday morning to fluffy white flakes floating down like fat dust motes. I immediately remembered the sensation of snowflakes dissolving on my face, chilly little bites. It's visceral, imbedded in the DNA even after 17 years.
But Damian had never experienced snow in his 7 ½ years of life. From LA, you have to go find winter. We haven't bothered in years. We never found anywhere satisfying nearby, not enough to suit our tastes. Vermont isn't exactly close at hand when you're in Southern California, you know? And Lake Arrowhead doesn't cut it. At least not for us.
Snow. Falling. From the sky. Pretty, soft snow. Damian ran to get me, to bring me to the window so we could watch together but really so he could say the one remaining thing from the list he compiled before moving.
"What's that white stuff?"
And then waited with a smile for me to say, "That's snow, Damian."
He'd gone through the same routine with Dan a few minutes earlier.
Funny kid.
We opened the sliding glass door in the kitchen and scooped snow off the deck. Damian's first handful of snow. He was enamored.
He and I put winter jackets on over our pajamas and went out into the whiteness. The snow had stopped falling by then, but it crunched underfoot and compacted nicely in your mittens and acted in all the ways snow acts and Damian loved it all.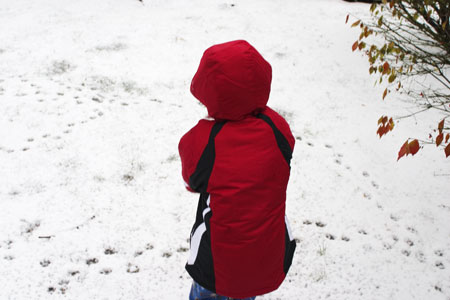 Later, Dan went out front and rolled a huge snowball, sculpting it into this: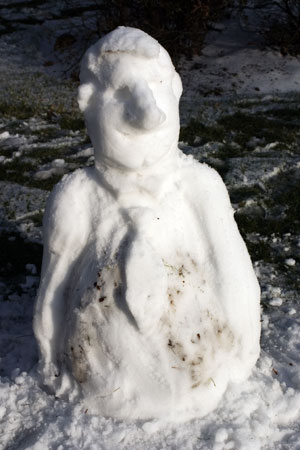 The strange part, for me, was how not-strange it felt. I think childhood sensations stay with you your whole life, no matter how long it's been. That knowledge, that tactile immediacy, it comes back in an instant, brought forth from whatever part of the brain that has been set aside for deep imprinting. This is how it is. It snows in winter. It feels cold and wet and covers everything in white newness and that's the way things are and were and will be.