snow day
Turns out the experience of snow is radically different when you don't live in the city. We rarely had snow days when I was a kid. The snow melted or simply disappeared under the force of so many boots. The subways always ran. You could go Riverside Park, bring your sled, toboggan down the schist hills outside the playground. When you live in the city, you can walk to snow. It doesn't live with you.
When it snows in the city, your body doesn't feel the ache deep inside muscles you never knew you had, because when you live in the city, you don't have to brush six inches of that pretty white fluff off your car in the morning and try to scrape compacted snow off your impassable steep driveway in the waning light of late afternoon because the snowplow did such a lousy job clearing it while you were away. When it snows in the city, you don't get snowed into your in-laws' house, who are very nice about it all, but who nevertheless have to wrangle up enough to feed an extra three people for lunch, and of course there's no running out to the store because you are, remember, snowed in.
When it snows in the city, you never get stuck backing out of your in-law's driveway after your father-in-law has blown all the snow out of said driveway and the plow has swept the street clear but in so doing, the plow created a foot-high wall of snow right at the end of that lovely, formerly clear driveway. And when it snows in the city, you don't have to hear your car strain and huff and catch its breath to try again only to fail once again to climb the driveway up to your little house perched way high on the hill.
But when it snows in the city, you also don't get to wade through pristine snow in your boots, feeling them sink into the drifts, feeling like an explorer in exotic terrain, familiar land made new by the thick coat of white, white everywhere, and when the sun comes out after the flakes stop falling, but oh, they were thick and luxurious, those flakes, dissolving on the tongue with a sharp tingle, when that sun comes out, the shadows of the trees on the snow turn blue and the snow on branches becomes backlit and the world is white and quiet and oh so very beautiful.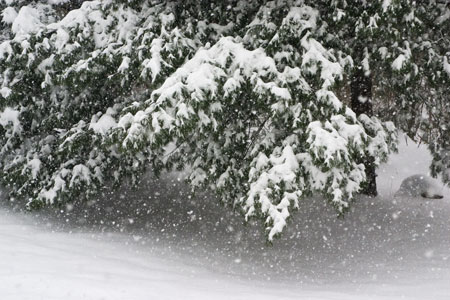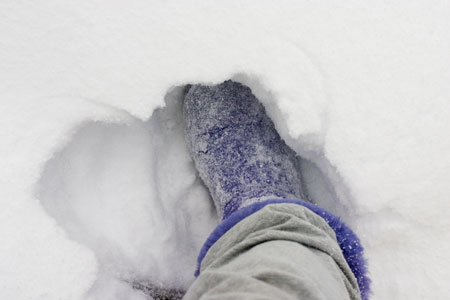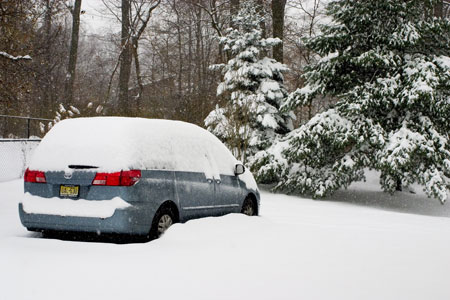 I will post more of today's snow pictures, the artsier ones if you will, on my brand new Flickr page. (Check there often if you like my images; I'm testing it out now and will probably begin using it as a very-nearly-daily photoblog.)